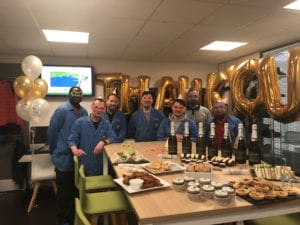 The market leader of access control and door entry solutions, Paxton, have made the Sunday Times 100 Best Companies to Work For list for the third year running, ranking at 75.
"A company that puts in the time and effort to build a great company culture and office environment." – Anonymous employee feedback
Paxton pride themselves on their company culture, offering a modern working environment and an extensive benefits package including, free breakfast, subsidised lunches and gym membership, free yoga classes, monthly 'Fun Fridays' – giving employees a chance to have some fun together, six months maternity leave at full pay and four weeks full pay paternity leave.
Adam Stroud, Paxton's CEO, said: "All of us at Paxton are thrilled to appear in the prestigious Sunday Times Best Companies list for the third year running.  A positive company culture is hard to achieve and is a result of a great many things."
Paxton's Global Head Office is based in Brighton, East Sussex. For the third consecutive year Paxton are the only East Sussex based and manufacturing company to make the ranking.
Adam continues: "To achieve this level of consistency is so important to us. In fact, we consider a great company culture to be a prerequisite for all our other company goals. My congratulations and thanks to the whole team here at Paxton."
Paxton have a high level of employee engagement. Of those who were asked, 88% completed the Sunday Times survey, with one commenting:
"Paxton continues to strive for greatness amongst its rivals. The ambition and attention to detail along with putting its staff at the heart of things will ensure the future is really bright."
Nicola O'Donnell, HR Director, said: "We are so excited to have made the list for the third year running, it's a great achievement and all relates back to our amazing people. We continually look for feedback to improve and that's really important for us at Paxton."
"We believe that our colleagues' wellbeing is essential for Paxton to thrive and are truly passionate about becoming an employer of choice in the local area. We attract and grow talent, encouraging people to develop their skills to ensure we have the best people working with us."
Celebrating its 35th birthday this year, Paxton now have teams in 12 locations across the world. They are committed to investing in the local community, holding regular volunteering and charity days. Four years ago, they launched the Paxton Scholarship, which offers four university students a £10,000 scholarship and three-month paid work placement with Paxton. Paxton are very proud of their Sussex roots and have no intension of relocating, with plans to purchase additional premises over the next five years, to support their ambitious growth plan.
For more security news visit here.