BAE Systems cyber division, Applied Intelligence is to collaborate with a newly formed Cyber Security Research programme at the Royal United Services Institute (RUSI) which will be a three-year project aims to help policy makers navigate current and future cyber threats.
The world is in the midst of a digital revolution that is affecting economies, societies and the physical world and changing what it means to keep people and organisations secure. However, there is currently only limited debate on the public policy issues around the cyber security challenges we face today and in the future.
Over the next three years, this RUSI-led programme will be bringing a much-needed research focus to support UK and international strategic responses in the cyber security domain. In so doing, the programme will help inform approaches to tackling cyber challenges by developing a strong evidence base for policymakers and industry practitioners alike.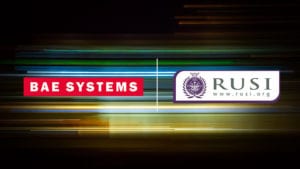 Julian Cracknell, Managing Director at BAE Systems Applied Intelligence, said: "We have a unique perspective on today's cyber security challenges, with customers across National Security, Defence, Government and Industry all facing similar threats. When discussing the cyber security landscape with our customers, partners and government stakeholders it is clear there is a need for respected objective analysis to underpin future cyber security policies. Therefore, we are pleased to be with RUSI on its cyber security research programme."
Conrad Prince, Distinguished Fellow and Senior Cyber Advisor at RUSI, said: "The global approach to cyber security continues to develop, but there are some key public policy issues that need more discussion and debate. These include the respective roles of government and private sector in achieving national cyber security, how to address the challenges of globalised technology, and what is the proper role of offensive cyber for democratic nations. Meanwhile, those who would use cyberspace to do us harm are developing ever more aggressive and innovative ways of doing so. It has never been more important for the cyber community to work together to achieve the cyber security needed in an uncertain future.
"Over the next three years, RUSI will work with Government, the private sector and academia to conduct a number of research projects exploring important public policy issues relating to cyber. We are very grateful for the contribution of BAE Systems Applied Intelligence to this programme, which will bring valuable expertise and capacity to the programme's activities."