Company have worldwide reputation for HVM products installed at prestigious locations
Heald Ltd, the Yorkshire based manufacturer of hostile vehicle mitigation systems, is one of the latest companies to renew their membership with Secured by Design (SBD), the national police crime prevention initiative.
Heald started in 1987 as an agricultural engineering business before launching its first line of security barriers. Today, Heald manufactures and installs a range of innovative hostile vehicle mitigation (HVM) systems and traffic control solutions and its award-winning roadblockers, barriers and bollards play a leading role in the defence of vulnerable properties worldwide.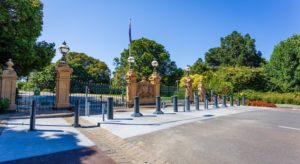 Clients include military sites, presidential buildings, palaces, embassies, border controls, airports, oil refineries, stadia, banks, shopping malls and government buildings.
Heald is one of the largest manufacturers of security equipment in the UK and has been a member of SBD since 2005.
Heald Ltd commented: "We are delighted to renew our membership with Secured by Design once again. Our products aim to keep people and places safe, therefore having this accreditation and recognition is important to Heald."
SBD Development Officer Alfie Hosker said: "I am delighted that Heald Ltd have renewed their SBD membership with us, as they have been working with us since the early 2000's. The company have an excellent worldwide reputation for their HVM products which have contributed to the safety and security of many iconic sites both in this country and abroad. Heald have recently added more accredited products to their already extensive SBD range and I look forward to continuing our successful partnership."
SBD is part of Police Crime Prevention Initiatives (PCPI), a police owned organisation that works on behalf of the Police Service to deliver a wide range of crime prevention and demand reduction initiatives across the UK. PCPI is a not-for-profit organisation and Board Members include senior police officers from each of the four Home Nations who control and direct the work PCPI carries out on behalf of the Police Service.
SBD plays a significant crime prevention role in the planning process to design out crime in a wide range of building sectors. It has achieved some significant success including one million homes built to SBD standards with reductions in crime of up to 87%.
SBD have many partner organisations, ranging from the Home Office, Ministry of Housing, Communities & Local Government and the Police Service through to local authorities, housing associations, developers and manufacturers and work closely with standards and certification bodies to ensure that their publicly available standards actually meet the needs of the police and public alike.
Products must be subject to rigorous testing and additionally be fully certificated by an independent, third-party certification body accredited by the United Kingdom Accreditation Service (UKAS) before being allowed to carry the SBD logo – this is the only way for companies to obtain police accreditation for security-related products in the UK.