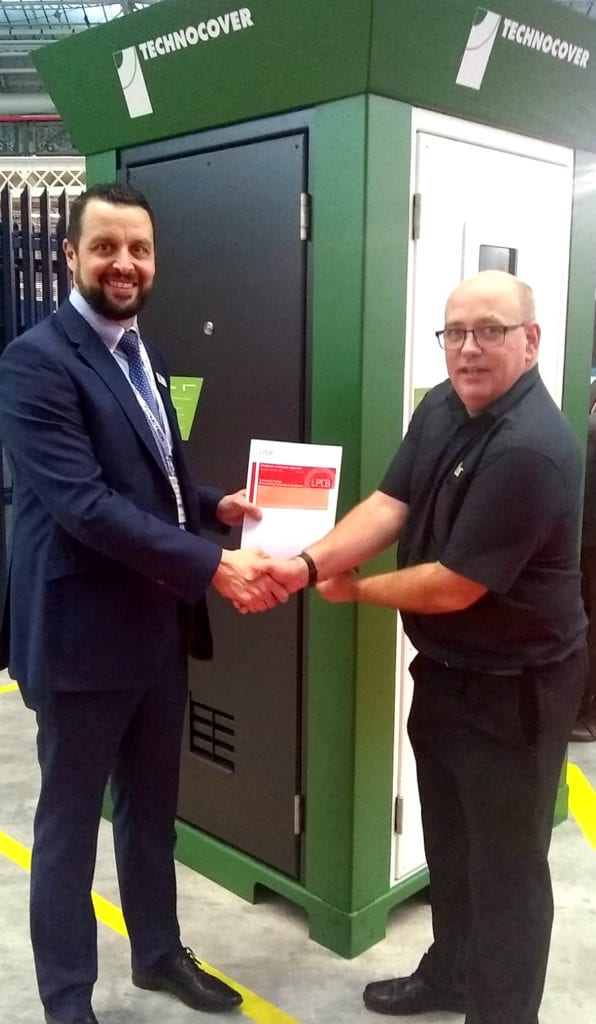 Secured by Design (SBD) member company Technocover have achieved LPS 1175: Issue 8 for their Emergency Escape Upstand Access Cover.
The two-way security hatch is not only the first of its kind with LPCB certification, it is also the first access cover on the market approved to LPS 1175 Issue 8, the latest revision of LPCB's demanding test standard.  Issue 8 of LPS 1175 retains the same rigorous testing procedures as Issue 7, with the addition of a number of new tests to reflect a broader spectrum of threat scenarios.
Technocover's Emergency Escape Upstand Access Cover is one of a range of their SBD accredited products which features on the SBD Counter Terrorism page.  Whilst all products listed on the SBD website meet Police Preferred Specification, SBD recognise that in some cases, whether due to the nature of the asset being protected, the function of the building or the gathering of large numbers of people, more robust security measures that offer better protection are required.
Working in collaboration with CPNI, SBD have developed a specific area on the website which lists security products that have passed more stringent security tests than those used for traditional residential and commercial purposes – products which are considered suitable for use as a counter terrorism measure.  All products that gain a listing on this counter terrorism page of the website have passed exacting and demanding assessments, which take into account the changing nature of threats and ensure the necessary protection is in place as far as possible to mitigate the threat to buildings, places, assets and people.
Technocover's Marketing Manager, Terry Batten, said: "Our innovative UltraSecure two-way escape hatch is the first of its kind to be certified to LPS 1175, and also the first access cover on the market approved to the updated Issue 8.
"The design fills a gap for an emergency escape cover for underground assets that also allows ingress by authorised personnel, while assuring LPS 1175 tested resistance to physical attack. We are delighted to add it to our SBD portfolio as it will enhance operational flexibility for utilities, telecommunications, transport and other critical infrastructure sites and high security applications."
SBD Development Officer Hazel Goss said: "This is a great achievement by Technocover as they are one of the first Secured by Design member companies to achieve LPS 1175 Issue 8.  This is the most up to date version of the standard which aims to protect occupants and valuables from a wider range of threat by assessing the latest changes in physical security risk".
You can find out more about Technocover and their extensive range of SBD accredited products here: https://www.securedbydesign.com/member-companies/sbd-members?view=companydetail&account=0011i00000JpvkXAAR
SBD is part of Police Crime Prevention Initiatives (PCPI), a police owned organisation that works on behalf of the Police Service to deliver a wide range of crime prevention and demand reduction initiatives across the UK. PCPI is a not-for-profit organisation and Board Members include senior police officers from England, Scotland, Wales and Northern Ireland who control and direct the work PCPI carries out on behalf of the Police Service.
SBD plays a significant crime prevention role in the planning process to design out crime in a wide range of building sectors. It has achieved some significant success including one million homes built to SBD standards with reductions in crime of up to 87%.
SBD have many partner organisations, ranging from the Home Office, Ministry of Housing, Communities & Local Government and the Police Service through to local authorities, housing associations, developers and manufacturers and work closely with standards and certification bodies to ensure that their publicly available standards actually meet the needs of the police and public alike.
Products must be subject to rigorous testing and additionally be fully certificated by an independent, third-party certification body accredited by the United Kingdom Accreditation Service (UKAS) before being allowed to carry the SBD logo – this is the only way for companies to obtain police recognition for security-related products in the UK.
See more news here.