Announced at an awards ceremony, Paxton ranks 91 in The Sunday Times 100 Best Companies to Work for 2019 list. It's the second year running it has made it onto the high-profile list.
Paxton was also the only security manufacturing company in the UK to appear. The ranking was based on glowing feedback from staff, who rated Paxton highly in areas including leadership, team culture and giving something back.
Adam Stroud, Paxton's Chief Executive, said, "We're so happy to be in the Sunday Times Best Companies to Work For list for the second year running. This is a huge achievement and we're incredibly proud.
It's the people that make Paxton such a fantastic place to work and they are the reason for our continued success. "With teams in 12 locations across the world, it's important to foster a sense of community – but key to that is staff wellbeing and engagement", said Stroud.
"We always listen to our staff and, thanks to their feedback, have been able to introduce a whole host of initiatives to help them thrive. This not only allows our teams to reach their full potential, it also means we can attract the best and brightest talent.
"But while we're delighted to again be recognised as one of the best companies to work for, we'll always ask our staff if we can do better and will be introducing more initiatives in the year ahead. We're excited about the future and becoming an even better place to work."
The Sunday Times Best Companies to Work For list is compiled using feedback from staff surveys conducted independently by Best Companies.
Paxton's survey highlights included:
94% agree the company encourages charitable events
92% of staff believe they can make a valuable contribution to the success of the company
87% feel proud to work for Paxton
Paxton was founded in Lewes in 1985 and has seen a rapid expansion in recent years. Employing over 300 people globally, it develops all products at its state-of-the-art technology centre in Brighton, manufactures all products at its factory in Eastbourne and exports to more than 60 countries.
It strives to be an employer of choice and offers benefits such free breakfasts, healthy snacks and drinks, private healthcare, a modern working environment with the latest technology, fully supported career progression and training, flexible working and family-friendly policies.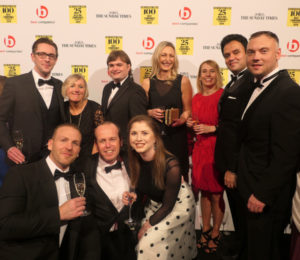 www.paxton.co.uk