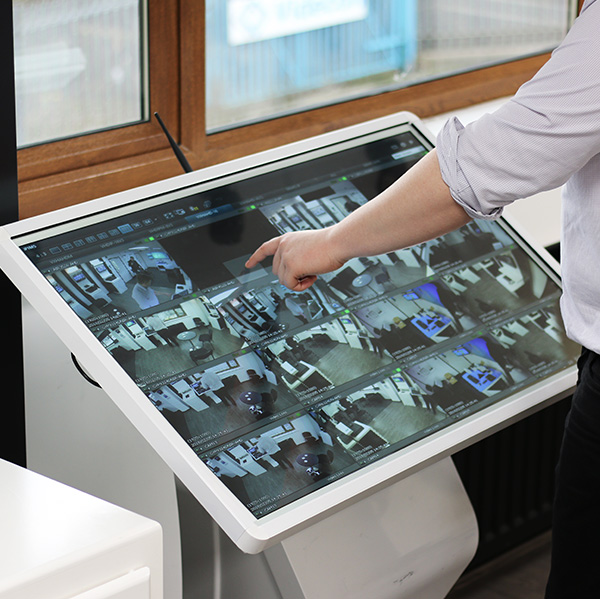 Advantages of the 43" Videcon Control Centre monitor
The 43" Videcon Control Centre monitor provides an effective display in a sleek and stylish design. Constructed using cutting-edge beam break technology and complete with pre-installed high-end iPims, OPSES and Windows software, the VCC-TS takes Videcon's role as an innovator to the next level.
Ideal for commercial, retail and industrial large-scale installs, the VCC-TS moves away from Analogue Resistive technology which provides poor durability and regular reconfiguration, irritating as it is time consuming. The new VCC-TS operates using beam break technology instead, a step forward from analogue technologies and an innovative manner of operation.
Beam-break technology is Infrared based and uses an array of LEDs and Photo-sensors positioned at the edge of the screen, each LED emits beams that will then be picked up by the sensors. These beams cross each other to form patterns and cover the entirety of the screen. When a user touches the screen this causes a break in a pattern, meaning that the sensors can pick up the exact location of a touch. The lack of a need for layering or patterning of glass means that these machines are incredibly durable and they can also be used with gloved hands, wet hands, a stylus and a pen. Complete with a powerful Intel i7 dual core processor and 8GB of RAM, the VCC-TS can comfortably handle the requirements of any conventional computing device.
Pre-programmed with Windows 10 Professional 64 bit, OPSES and iPims software, the product is built with versatility in mind. iPims allows the user to effectively monitor feeds from up to 256 devices at once, and the VCC-TS is a perfect central location to monitor this from. With a 43" inch screen and a full HD display, users can tap into each image and view it in immense detail and OPSES pre-installed software allows you to control and manipulate your OPSES camera with ease.
The VCC-TS comes in a metal case with ergonomically designed stand, to make a sleek addition to any site and will act as a visual deterrent. Whether it is installed front of house, in a reception or in a control room, the VCC-TS makes a great addition to any location hoping to further improve their site security.