Hikvision, the world's leading provider of innovative security products and solutions, has announced its financial results for the third quarter of 2019. During Q3 of 2019, Hikvision generated a revenue of RMB 15.92bn, having achieved a year-over-year (YoY) growth of 23.12%, and net profits attributable to shareholders of the Company was RMB 3.81bn, representing a year-over-year growth of 17.31%.
During the period of Q1-Q3, Hikvision accumulated a total operating income of RMB 39.84bn, representing a YoY growth of 17.86%.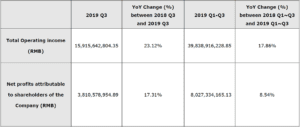 The growth of revenue was stable and robust during the first three quarters of 2019, with consecutive increase every quarter.
Hikvision believes there are increasing security demands and growth opportunities in both the Chinese and overseas markets and will continuously strive to provide superior products and services for all customers and partners globally.
For the full Q3 2019 financial report, please visit here.